Past SATs papers are available freely on the internet however it is debatable whether using them is beneficial for your child's progress. While studying past papers for familiarity is good these can interfere with your child's teacher being able to accurately assess their needs. They can (if not used in the correct way) actually damage confidence. However, using materials from past papers in the right way, can also increase confidence and prepare your child for the big day. Read on to learn more pros and cons and tips for utilising this freely available resource.
Are past SATs papers used in your school? 
Check with schools first. Do they use the past tests? Some do some don't. If they do use tests, do they offer feedback? I used tests half termly but I ensured every child had good feedback and the papers were used to identify a revision strategy. For some children who really struggled, I deemed the papers to be a waste of time and damaging to their confidence. For these children, they are usually missing a basic understanding of number properties that underpins all of the learning of the Year 6 National Curriculum
For these children, I concentrate on building the foundation skills that are found in the Arithmetic paper. Without number skills they will not be able to answer reasoning skills.
Using the results from past SATs papers
It's crucial that the children's results are used to plan an efficient revision schedule and this should look different for everyone. Once children have their own areas to focus on, they can check their progress when the next set of tests come along. They will be able to track progress in different mathematical areas.
Some mathematical areas are more frequent in the papers so revision focus should also take this into account. If my pupils have tutors, I send the papers home with them so they can share their areas of strengths and weaknesses in a productive way.
Feedback on results of the past SATs papers
It is hard to feedback to every child on 3 papers but for optimal success, that is what is needed! It is no good a child receiving a paper back with incorrect answers if they are not then given the tools to learn where they went wrong. In reality this is difficult to do in class and will vary depending on staffing resources and time management in each school. I have started to create modeled answers for SATs papers 2017-2019 so that you can look through how to solve each question. This should be used after a child has completed a test. They can look at any questions they got wrong and see a modeled solution to help them. I also point out which area of the curriculum the question relates to and lessons for this can be found on the SATs revision app. The 2019 paper is almost ready to view and the others are on their way!
 How are past SATs papers helpful?
Using past SATs papers for practice can be really helpful because your child can get familiar with the different contexts of questions. Even getting familiar with how a paper looks and feels and the time set to complete it, all helps build that familiarity. It helps them to feel more comfortable when it comes to the real thing as it's not something completely new. These things we might take for granted but they make a big impact on how your child feels on the day which ultimately makes a big impact on them feeling able to think clearly and really showcase what they really do know. How many times has a strange or new situation completely thrown you and things you know just go out of your head? This is exactly the same! It also gives them a chance to practice maths comprehension. We often only hear this when discussing reading but the SATs maths papers are heavily dependent on your child understanding what they are reading. Word problems in the Reasoning Papers are what trip up a lot of children. They are often completely capable of "doing the maths" but they don't know "what maths to do!" The simple solution is practice! Practice but also feedback. I have put together a Maths Comprehension Masterclass which categorises the types of questions found in the Reasoning Papers and gives modeled explanations of how to approach each problem. The downloadable course is in 5 parts and costs just £9.99. Download it here.
Why shouldn't I just download the past SATs papers?
Again, check with the school so that you don't actually accidentally hinder your child's progress. Avoid overwhelm- unless your child enjoys taking tests- you know your child! Short sharp bursts are going to be far more beneficial than really long slogs- we need to get the balance right of a good amount spent revising with too much time which can just make them switch off! I have seen it many times before. If your child starts to get tired, they will not retain anything.  Focus on key areas, building up confidence one clear step at a time. All of these add to a stronger big picture than trying to look at 3 whole papers in one go. Of course, every child is different and yours may love tests- plenty do. Just be sure that you understand how the mark schemes work as there are very specific dos and donts where marks are awarded or withheld. If you do want to download past papers you can do that here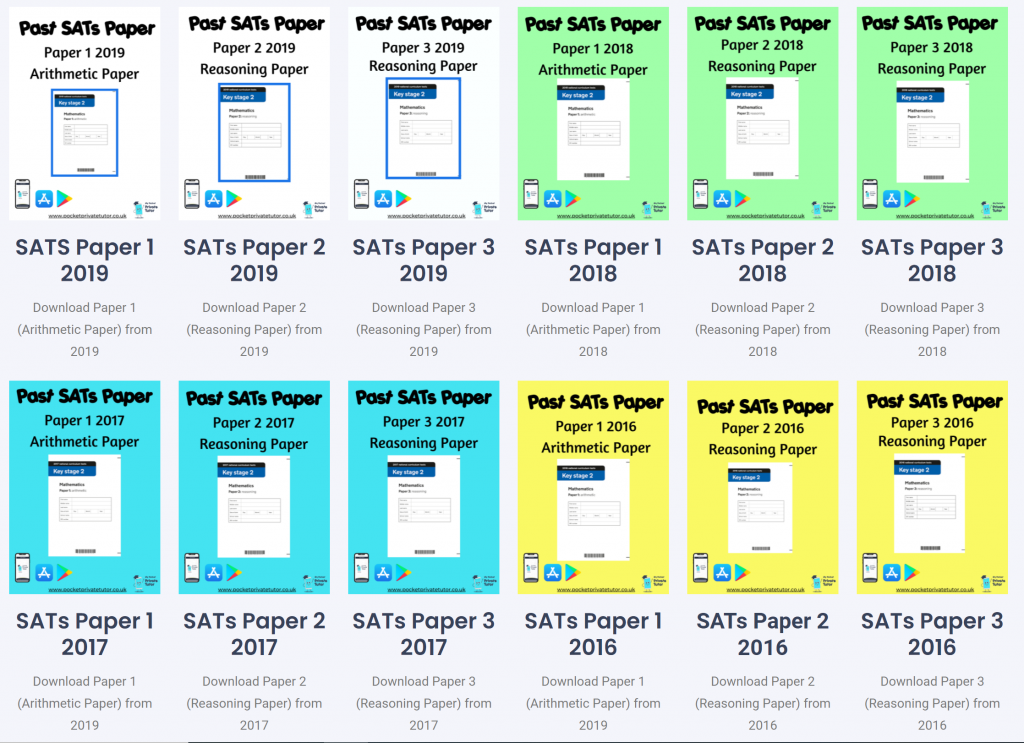 What is a good alternative to the past SATs papers?
There are lots of practice materials available online and my weekly revision grids offer 8 SATs style questions weekly so you can keep an eye on progress against the National Curriculum objectives with Paper 1 and Papers 2& 3 style questions.
I have also created a set of 6 practice Arithmetic tests available for just £4.99 and with answers included. Last but not least my SATs revision app covers the whole of the Year 6 National Curriculum with video tutorials, worksheets (with SATs style questions) AND past SATs questions that are categorised so that your child can focus on one skill at a time using actual past SATs questions. The app is completely free to download and you can try out 6 lessons in full to see if you would like to subscribe. For just £9.99 a month, you can access the complete library of Year 6 Maths lesson and all of the helpful resources- including past SATs questions.
There is nothing else like this on the market as I write. Download for IOS (APPLE) or for ANDROID (GOOGLE PLAY)