Sign up below to download the Pocket Private Tutor App for free!
Download Pocket Private Tutor today and get 6 FREE lessons to get your child on their way to excelling in their Year 6 Maths SATs.  You'll also get free bonus material direct into your inbox such as a SATs revision grid, year 6 maths practice questions, SAT past papers & practice papers and much more!
About the APP
Pocket Private Tutor has been carefully designed by an experienced Year 6 teacher and SATs marker and is fully aligned to the current National Curriculum objectives. It is fully compatible with mobiles and tablets.
Easy to follow lesson videos cover the entire Year 6 Maths Curriculum with up to date, appropriate methods which are in line with statutory guidance. Each lesson is accompanied by printable worksheets to enable children to practice, apply and consolidate new mathematical concepts and skills. Our lessons and learning materials are designed to allow children the ability to study completely independently. However, it can also be used to support parents and carers to understand the current methods so you can support your child better with their studies.
Some of the Best Features
Help your Child Pass their Year 6 SATs!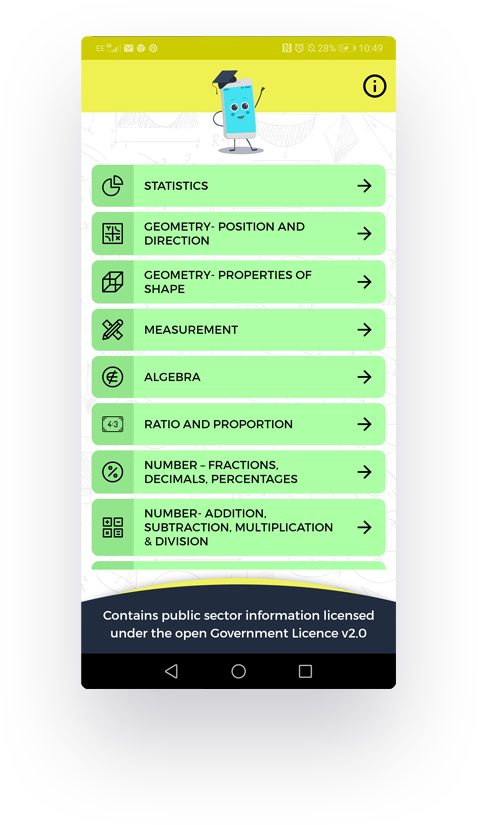 And Many More Advantages
With ever expanding class sizes full of varied abilities and inevitable time constraints in schools these days, a complete coverage of the curriculum can be jeopardised and will often be tailored to the needs of the majority. It is no surprise that more than 25% of parents in the UK rely on a Private Tutor to support their child's academic needs, with 77% of those receiving extra help with Maths.
Pocket Private Tutor allows your child to spend time on the areas that will enhance their learning, whether that is revisiting topics that they have passed in class or learning new topics and gaining a head-start or experiencing more challenging material. It can be used to plug gaps, ensure coverage or accelerate progress! Your child can be in control of their own learning experience, ensuring the greatest chance of reaching their potential.
On completion of each lesson and activity, there is the opportunity to see how the mathematical skill has appeared in a past SATs paper so your child can become familiar with the different formats of questions.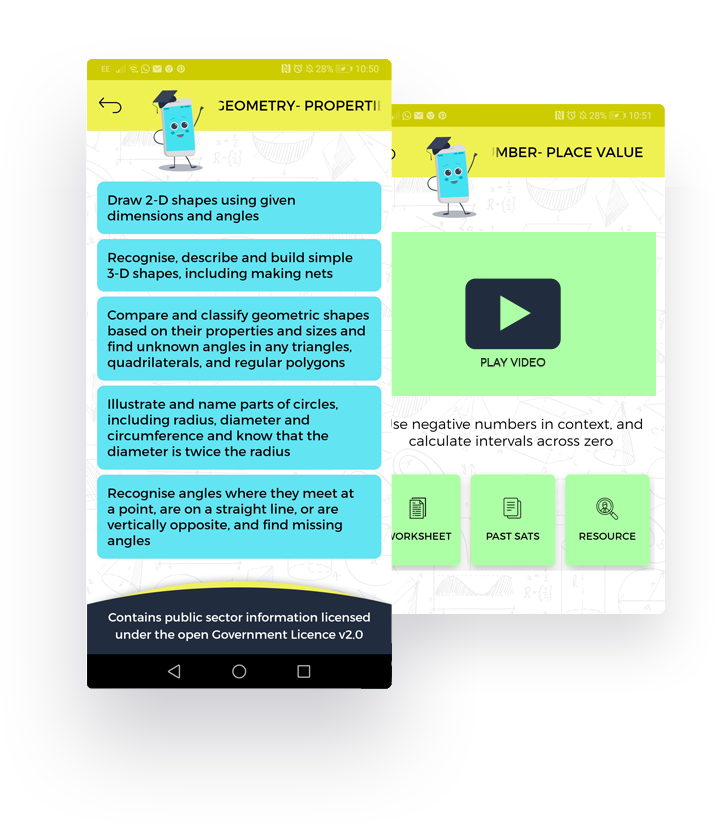 Pricing - Sign up to our Year 6 Maths Revision Study App
Get Pocket Private Tutor all year round, for a tiny fraction of the price of a real private tutor. The app is completely FREE to download and offers access to 6 of the 49 learning objectives so you can try before you buy! To access all content, you can subscribe from as little as £9.99 per month or £79.99 for the whole year, which is about the same price as just three sessions of private tuition! With 49 learning objectives covered, the potential savings are huge!
Monthly Subscription
£9.99
Per Year
FREE TRIAL includes 6 lessons
Download Now
Annual Subscription
£79.99
Per Year
FREE TRIAL includes 6 lessons
Download Now
Sign up to receive your Free Bonus Material!
Sign up to our newsletter to receive study tips and advice, as well as FREE bonus material such year 6 maths questions, SAT past papers & practice papers, a year 6 maths revision grid and much more!