Are you a Year 6 teacher? The struggle is real
As a Year 6 teacher, the pressure is intense. Nobody really understands it unless they've experienced it! The responsibility and accountability of getting 30 pupils with varied abilities and learning styles to reach their progress targets and age related expectations while ensuring breadth of curriculum, mental wellbeing and a love of school is huge. Now with the added complication of a new cohort who have experienced 2 school years affected by the Covid 19 pandemic and the fact that SATS have been cancelled 2 years on the bounce, and you have really got your work cut out!
Too many resources to choose from?
The internet has opened up our access to a huge wealth of resources but some might say-maybe too many! We all settle on our own favourites and may dip in and out of different recommended providers.
My school uses its own scheme of learning
On top of that different schools use different schemes. Some schools use White Rose, Inspire Maths, Maths No Problem to name but a few… We don't all have the same autonomy in the way we choose to teach maths but ultimately the majority of us are geared toward passing the exact same SATs maths test next May!
Plugging Year 5 gaps
I have put together a handy Year 5 Mathematics Booster Programme to help identify and plug any gaps from the Year 5 mathematics curriculum in order that children can move on and progress with the Year 6 curriculum.  Purchase a school licence version to have permission to share and distribute learning materials with any pupil from your school.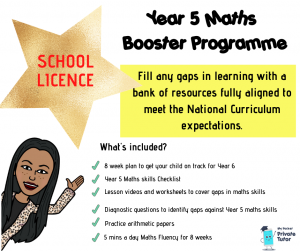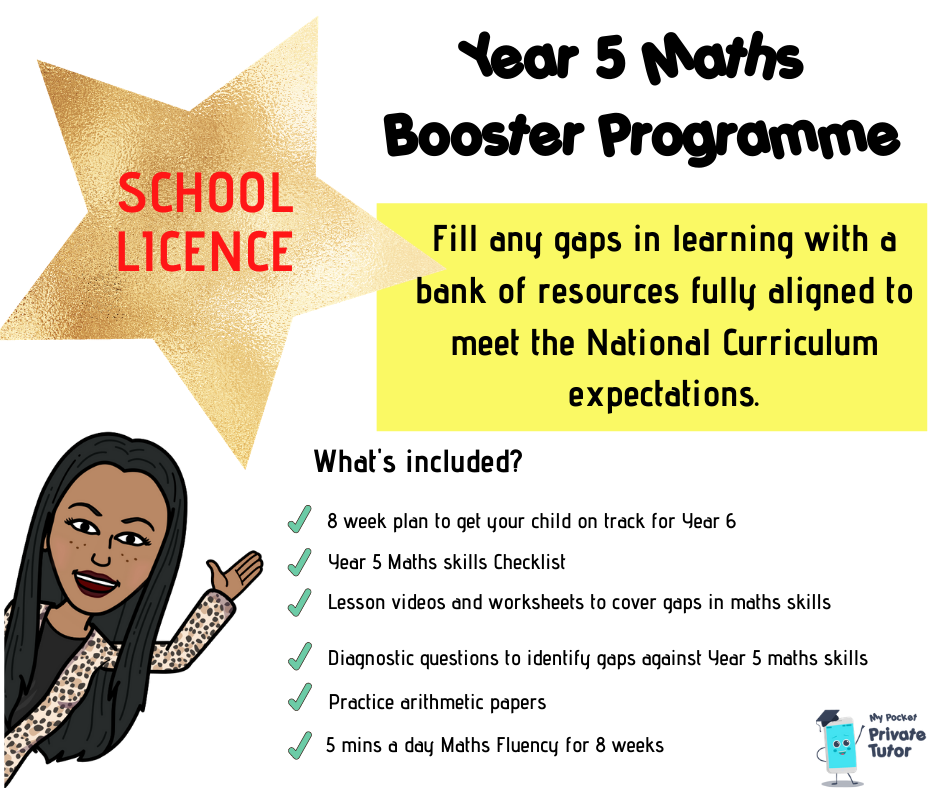 Use the programme as an intervention tool. Children can work on different lessons individually or in small groups run by support staff. All worksheets link to an online tutorial and have the answers included to enable quick feedback.
Alternatively use as a Summer Holiday Programme
The 5 Minutes Maths A Day makes an excellent Fluency starter.
Use the Practice Arithmetic Papers instead of past papers to get a baseline and show progress.
Use the Diagnostic tool to identify gaps from Year 5 Maths
Use the curriculum map to correlate the gaps against the Year 6 Maths objectives (which also link to our Year 6 app)
Worksheets can be assigned as homework with access to the tutorials coming from the digital versions of the worksheet
A handy 8 week guide can be used to schedule the programme but it can be adapted and tweaked for the needs of the children.
The Year Six maths resource I had always wished for
When I began designing the content for Pocket Private Tutor, I was very much wishing I had access to this resource while I was in Year 6 full-time. Since then, I have left and returned to teaching, started privately tutoring and became a SATs marker. Here are some of the benefits I believe could be enjoyed by any Year 6 teacher:
You can dip in and out of any Year 6 learning objectives to suit
Use the videos, worksheets or past SATs questions as a standalone activity or as a complete lesson
Download the app onto a few class tablets so that small groups can work independently while you target another group
Use it to revisit maths areas you have already covered or use it as a pre-teaching tool
Use your TA to lead boosters, supported by the program. Everything is there ready-made. There is no need to read through lesson plans. Simply print off the worksheets and use alongside the lesson videos. A small group of children could view the learning content together OR each child could work on separate lessons independently
For your own CPD and to save time! Let's be honest. We don't know everything and we can't always be super creative.
Minimal subscription cost
We are currently working on being able to offer school licences but for the time being, the app can be downloaded onto individual tablets for just £9.99 per month. That is complete access to every single Year 6 learning objective. When  compared to some other services being offered at £20 per hour per pupil with a minimum commitment of 6 weeks, it's a no-brainer!
Download the app today for free and try out 6 lessons first before you commit!